WINDMILL'S SIERRA WAVE'S
"Pika"
DOB: 10/22/2015
ASCA #N196368 /AKC DN44150902
COI 4.719%
Full dentition/scissors bite
HC clear by parentage
MDR1 clear by parentage
Hips: Too young
Elbows: Too young

WTCH JUSTUS & THE MIGHTY QUINN,RTDc,RNX, DNA-VP
&
ATCH, ADCH WINDMILL'S HEAVEN HELP US, DNA-VP
---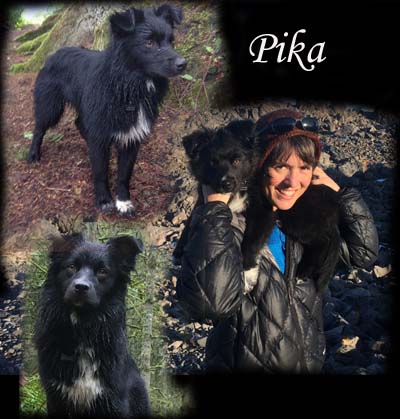 Photos:
CLICK HERE FOR PIKA'S SMUGMUG PHOTO GALLERY
---
True to her registered and call names, Windmill's Sierra Wave, aka Pika is an energetic mountain girl. And an agility enthusiast, beach lover, trail running buddy, crumb catcher and top notch snuggler. She is bold, clever and curious, and embraces the stream of new places, people and experiences in our active life.
Pika loves to learn and to work with us - the more lively the pursuit the better. In agility class, there is no reward as great as the chance to play again! She prefers to be active and interactive and is, as many people have commented, "a lot of dog." However, she quickly adapts to boundaries and different circumstances, as needed. She loves to come to work with us, and happily follows whatever rules make that possible. She is a social butterfly and makes quick friends of our employees, clients and pretty much anyone she meets.
She is a fearless and coordinated adventurer. She has bodysurfed in the ocean, leapt onto a roof, bounded/swum through back-deep snow and ridden waves on a standup paddle board. She inherited mother's talent and enthusiasm for agility, and she approaches each new obstacle with confidence. In learning any new skill, she is intense, focused and generally two steps ahead of me. Naturally, these attributes sometimes lead to a sort of creative mayhem - life with Pika is full of surprises!
Pika is bright, biddable and talented, but our favorite thing about her is her warm bond to us. She is not a clingy dog, but she loves to be nearby. In quiet moments, she loves to curl up against (or on) us. She is my very welcome shadow, and we could not be more grateful to Nicole and Gina for trusting us with her.
---

© 2002-2016 Windmill Aussies - Kushaiah Internet - All Rights Reserved




Click logo to return home