ATCH-II, ADCH, WINDMILL'S WICKED & THE DIVINE AX, AXJ
"NAJU"
DOB: 10/22/2015
ASCA #E195871/AKC DN44150903
COI 4.719%
Full dentition/scissors bite
HC clear by parentage
MDR1 clear by parentage

WTCH JUSTUS & THE MIGHTY QUINN,RTDc,RNX, DNA-VP
&
ATCH, ADCH WINDMILL'S HEAVEN HELP US, DNA-VP
---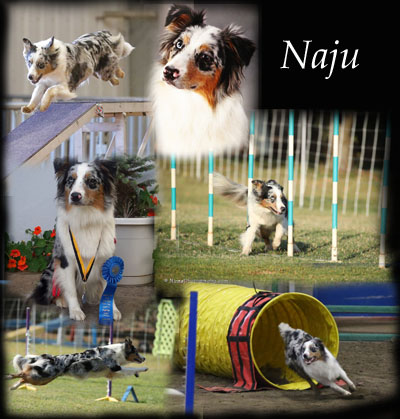 Photos:
CLICK HERE FOR NAJU'S SMUGMUG PHOTO GALLERY
Click her for her first AKC agility run
Click here for her first ASCA (FEO) agility run
Click here for her ASCA ATCH run

Windmill's Wicked & the Divine, otherwise known as Naju. We thought about calling her Nazar Boncu (pronounced Nah-zahr bon-joo), which is a blue-eyed amulet used in Turkey and Central Asia to ward off evil spirits. She definitely has the energy to ward off any spirits, good or evil, maybe by causing so much mischief no one else dares come near. But in the end we took the first and last syllables and made her a name all for herself, Naju.
Naju is a small but mighty bundle. She is a happy soul who, like her mom Dervish, always wants to be doing something. Unlike her mom, who was generally very good, Naju will invent something to do if we don't give her enough. She spent much of her puppyhood stealing things, and we always knew by the way she tore around the house that she was up to no good. Slippers, toilet paper, banana peels, and -- her big addiction-- cough drops! None were safe. She has a tail and she wags it a lot. A lot. She loves to torment her mom, mostly by biting her legs. She is an awesome dog to train because she loves to learn, is as bright as they come, and does everything at top speed with 150 percent effort. She is happy to try something again and again and again. And she thinks. If she doesn't get it right the first time, she'll try something a little different until she figures out the right answer. She loves people, and she doesn't think she should have to keep four paws on the floor when she greets them. She likes other dogs, but given a choice between her favorite webby ball and a dog, she'll take the webby ball. Naju is everything and more we could want in a pup, and though she runs us ragged, she gives us reason to celebrate each and every day.
---

© 2002-2016 Windmill Aussies - Kushaiah Internet - All Rights Reserved




Click logo to return home