WINDMILL'S LADY MARGOLOTTA, GS-N,AX,OAJ,AXF
"Katniss"
DOB: 10/22/2015
ASCA #N194423/AKC DN4415090
COI 4.719%
Full dentition/scissors bite
HC clear by parentage
MDR1 clear by parentage

WTCH JUSTUS & THE MIGHTY QUINN,RTDc,RNX, DNA-VP
&
ATCH, ADCH WINDMILL'S HEAVEN HELP US, DNA-VP
---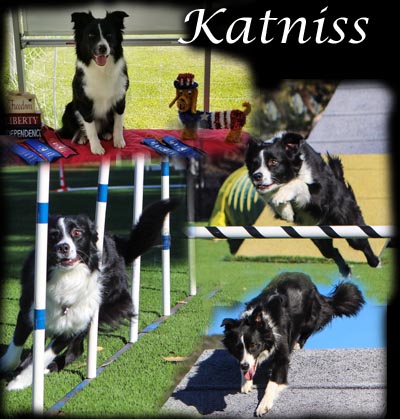 Click here for Katniss' smugmug gallery
---
Katniss is my second Aussie from the Windmill's line. Her big brother Kamui, who's father was Zoom, is my dream-come-true dog and l love everything about him. So l got a little black and white bi girl from Gina and Nicole. What a beautiful, cute, little puppy she was! As soon as l brought this little girl home l was so impressed by how quickly she can learn things. It started from there. I knew l had gotten a truly special dog.
She has a sweet, lovely disposition. she loves people, dogs and is very good with other animals. She is very bright and talented and is always full of life. When she is working she is enthusiastic, energetic, focused and has a very high motivational drive. She is a lot of dog in her compact body. When she isn't working she is a sweet loving cuddle bug with busy trotting legs. She showed her great trainability side at a very early stage in her puppy hood. I got emotional during her puppy agility classes as she sat and stayed with her head and chest up, waiting for me to give her cues intently. She showed so much focus and motivation during classes when she was only 2 months old. She loves doing agility and any activity she gets into. She loves toys more than food. Therefore, there is endless fetching of the tennis ball, diving into toys at training, and finding toys l hide from her etc, etc. She is also a good swimmer.
Thank you very much Gina and Nicole for this beautiful girl who has given me so much love and fun in my life.


© 2002-2016 Windmill Aussies - Kushaiah Internet - All Rights Reserved




Click logo to return home