WINDMILL'S LIVING LIFE LARGE, ADC,SGDC,AADC,AGDC,MJDC,SDDA,SD-S SP,SD-A
"ZEST"
DOB: 04/18/2016
ASCA #/AKC DN45733003
COI 3.92122%,
Full dentition/scissors bite
HC clear by parentage
MDR1 clear by parentage

WTCH RIVERBANK'S BAKER'S DOZEN PATDs, DNA-VP
&
SDCH WTCH-X TWIN OAKS DO-I, RTDcs PATDcs,OFTDm, AFTDcs,DNA-VP
---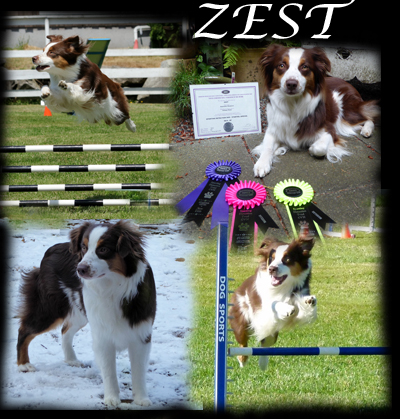 Photos:
CLICK HERE FOR ZEST'S SMUGMUG PHOTO GALLERY
Hard to believe it has been 2.5 years since I picked up this little cutie! She is a fun loving gal, gets along with everyone, loves to play and loves to work and learn.
Last November we started trialing in agility in the AAC venue in Canada and we are having a lot of fun! We also started Nose work in the SDDA venue and got our Starters and Advanced titles! Now working on more complex searches.
We have dabbled in Obedience and Rally but have not trialed yet as I was concentrating on the agility, but starting in 2019 we will put some more effort into those two areas as well.
Forest and beach walks are still our favorite thing to do tho, bush crashing is just so much fun with her buddies!
Love her to the moon and back!

---

© 2002-2016 Windmill Aussies - Kushaiah Internet - All Rights Reserved




Click logo to return home